(Last Updated On: November 22, 2022)
Key Highlights
FIFA World Cup 2022 kick-started on November 20
Your best bet is to watch the matches on Apple devices via Fox Sports
The matches will be shown on Fox Sports and FS1 in the United States
Football enthusiasts have an adrenaline boost when learning that the FIFA World Cup is drawing closer. As a result, all football fans worldwide are looking for convenient ways to watch the FIFA World Cup 2022 on iPhone, iPad, or Apple TV and other devices.
The 2022 World Cup officially begins on November 20. The quarterfinals and semifinals will begin in December, and the championship game will take place on December 18. Fox is providing free complete replays of the matches on Tubi even though it has exclusive rights to the English broadcasts in the US.
How Can You Watch The World Cup On Your iPhone, iPad, And Apple TV?
Step 1: Visit www.foxsports.com or download the Fox Sports app (free for iPhone, iPad, and Apple TV).
Step 2: To watch the matches live, you must have a TV provider login. However, when you first start watching the coverage, Fox Sports often provides a one-hour complimentary preview.
Step 3: Without needing to sign up with a regular TV provider, DirectTV Stream, Hulu Live TV, or YouTube TV are quick and simple options to get instant, complete access to Fox and Fox Sports in order to watch the 2022 World Cup.
FIFA World Cup 2022: Here's The Full Schedule
November 20, Sunday
Qatar vs. Ecuador, 11 a.m. ET on FS1
November 21, Monday
England vs. Iran, 8 am ET
Senegal vs. Netherlands, 11 am ET
United States vs. Wales, 2 pm ET
November 22, Tuesday
Argentina vs. Saudi Arabia, 5 am ET
Denmark vs. Tunisia, 8 am ET
Mexico vs. Poland, 11 am ET
France vs. Australia, 2 pm ET
November 23, Wednesday
Morocco vs. Croatia, 5 am ET
Germany vs. Japan, 8 am ET
Spain vs. Costa Rica, 11 am ET
Belgium vs. Canada, 2 pm ET
November 24, Thursday
Switzerland vs. Cameroon, 5 am ET
Uruguay vs. South Korea, 8 am ET
Portugal vs. Ghana, 11 am ET
Brazil vs. Serbia, 2 pm ET
November 25, Friday
Wales vs. Iran, 5 am ET
Qatar vs. Senegal, 8 am ET
Netherlands vs. Ecuador, 11 am ET
England vs. United States, 2 pm ET
November 26, Saturday
Tunisia vs. Australia, 5 am ET
Poland vs. Saudi Arabia, 8 am ET
France vs. Denmark, 11 am ET
Argentina vs. Mexico, 2 pm ET
November 27, Sunday
Japan vs. Costa Rica, 5 am ET
Belgium vs. Morocco, 8 am ET
Croatia vs. Canada, 11 am ET
Spain vs. Germany, 2 pm ET
November 28, Monday
Cameroon vs. Serbia, 5 am ET
South Korea vs. Ghana, 8 am ET
Brazil vs. Switzerland, 11 am ET
Portugal vs. Uruguay, 2 pm ET
November 29, Tuesday
Netherlands vs. Qatar, 10 am ET
Ecuador vs. Senegal, 10 am ET
Wales vs. England, 2 pm ET
Iran vs. United States, 2 pm ET
November 30, Wednesday
Tunisia vs. France, 10 am ET
Australia vs. Denmark, 10 am ET
Saudi Arabia vs. Mexico, 2 pm ET
Poland vs. Argentina, 2 pm ET
December 1, Thursday
Croatia vs. Belgium, 10 am ET
Canada vs. Morocco, 10 am ET
Japan vs. Spain, 2 pm ET
Costa Rica vs. Germany, 2 pm ET
December 2, Friday
South Korea vs. Portugal, 10 am ET
Ghana vs. Uruguay, 10 am ET
Serbia vs. Switzerland, 2 pm ET
Cameroon vs. Brazil, 2 pm ET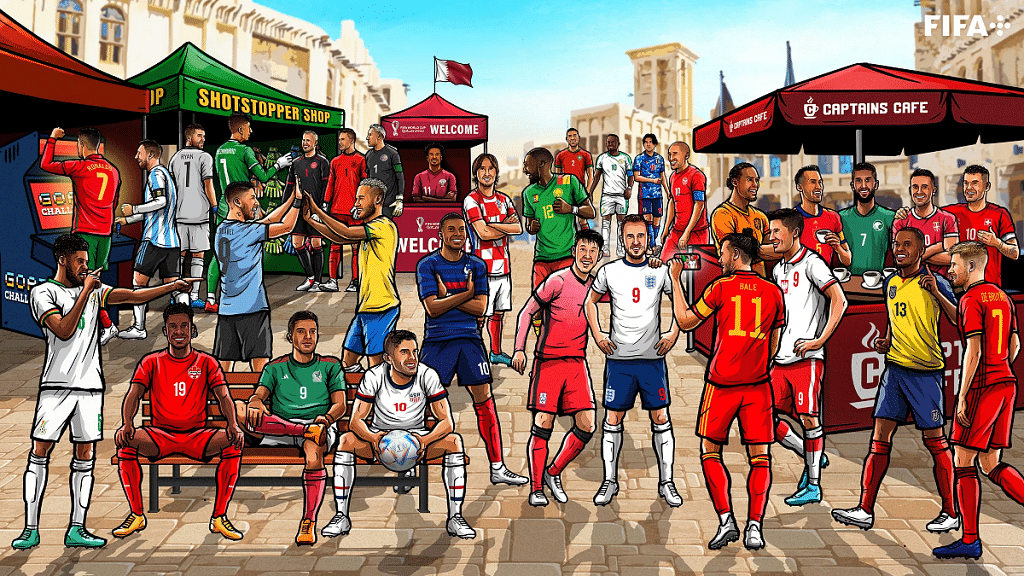 Round Of 16:
| | |
| --- | --- |
| December 3, Saturday | 1A vs. 2B, 10 am ET 1C vs. 2D, 2 pm ET |
| December 4, Sunday | 1D vs. 2C, 10 am ET 1B vs. 2A, 2 pm ET |
| December 5, Monday | 1E vs. 2F, 10 am ET 1G vs. 2H, 2 pm ET |
| December 6, Tuesday | 1F vs. 2E, 10 am ET 1H vs. 2G, 2 pm ET |
Quarterfinals:
| | |
| --- | --- |
| December 9, Friday | W53 vs. W54, 10 am ET W49 vs. W50, 2 pm ET |
| December 10, Saturday | W55 vs. W56, 10 am ET W51 vs. W52, 2 pm ET |
Semi-Finals:
| | |
| --- | --- |
| December 13, Tuesday | W57 vs. W58, 2 pm ET |
| December 14, Wednesday | W59 vs. W60, 2 pm ET |
Third-Place Match:
| | |
| --- | --- |
| December 17, Saturday | RU61 vs. RU62, 10 am ET |
Final:
| | |
| --- | --- |
| December 18, Sunday | W61 vs. W62, 10 am ET |
Also Read | iOS 16 Tips And Tricks: Here's How To Use Focus Mode On iPhone