(Last Updated On: January 27, 2023)
Pros
Lightweight chassis
IR face recognition scanner
Super-fast and smooth work
Cons
Limited port selection
No 360-degree hinge
When it comes to high-end Windows laptops, Lenovo is one of the reputed brands. The company is consistently focusing on high-end ultraportable notebooks in the market with powerful battery backup. The Yoga series laptops are the brand's bet in this segment. We at Giznext got to review the Lenovo Yoga Slim 7i Carbon. Does this laptop have a chance in a market that is being steadily dominated by MacBooks? Let's find out in this review.
What's Inside The Box?
Lenovo Yoga Slim 7i Carbon Notebook
65W USB Type-C charger
USB Type-C to Audio jack adapter
Some paperwork
Design
The Lenovo Yoga Slim 7i Carbon is an attractive laptop. As the name suggests, it's a portable laptop made for those who work on the go and need to swiftly tuck it into a bag or case as they sprint from one meeting to the next.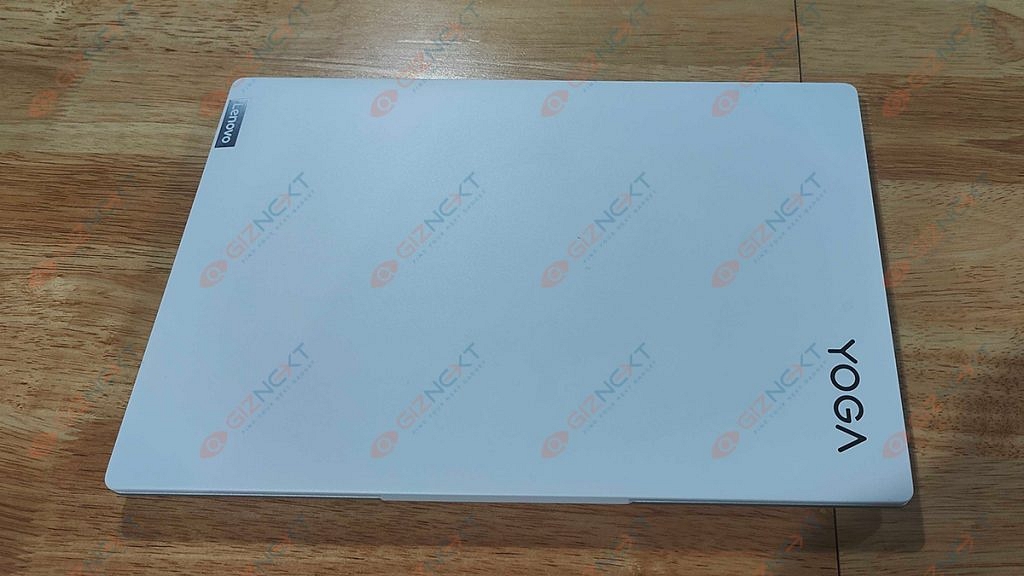 Lenovo claims that the base is an alloy of magnesium and aluminum while the lid is composed of carbon fiber. Opening this device's lid is a super satisfying experience. Thanks to the notch, it folding up or closing the lid is a fluid experience. The hinges are smooth and support a 180-degree fold. The top bezel of its matte display which has very thin bezels houses the HD Web camera, IR face scanner, and ToF sensor.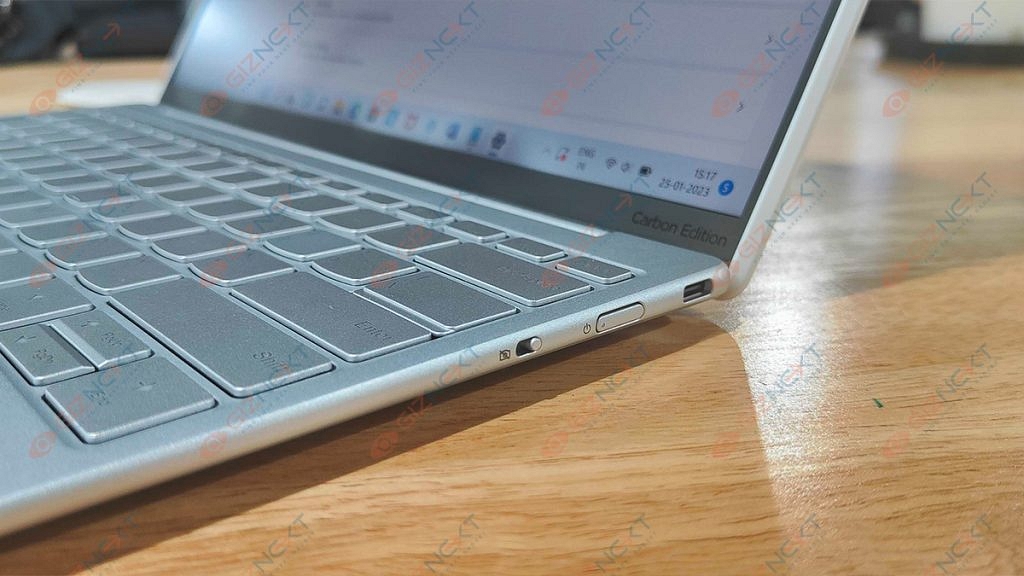 On the left side, you get a Thunderbolt 4 connector; on the right, there is a USB Type-C 3.2 (Gen. 2) port and a Camera E-shutter. Flip the laptop over to reveal two speaker cutouts and ventilation grilles. Hot air is exhausted through a vent between the base and the lid.
Display
Coming to the display, the Lenovo Yoga Slim 7i Carbon has a QHD IPS 90Hz panel which helps the screen stand out and contributes to the device's overall minimalist and slim design. The screen size of this Lenovo yoga laptop measures 13.3 inches and comes with a resolution of 2560 x 1600 pixels. The screen ratio is 16:10 and the pixel density is 227 PPI. The laptop's dimensions are 0.11 x 0.11 mm.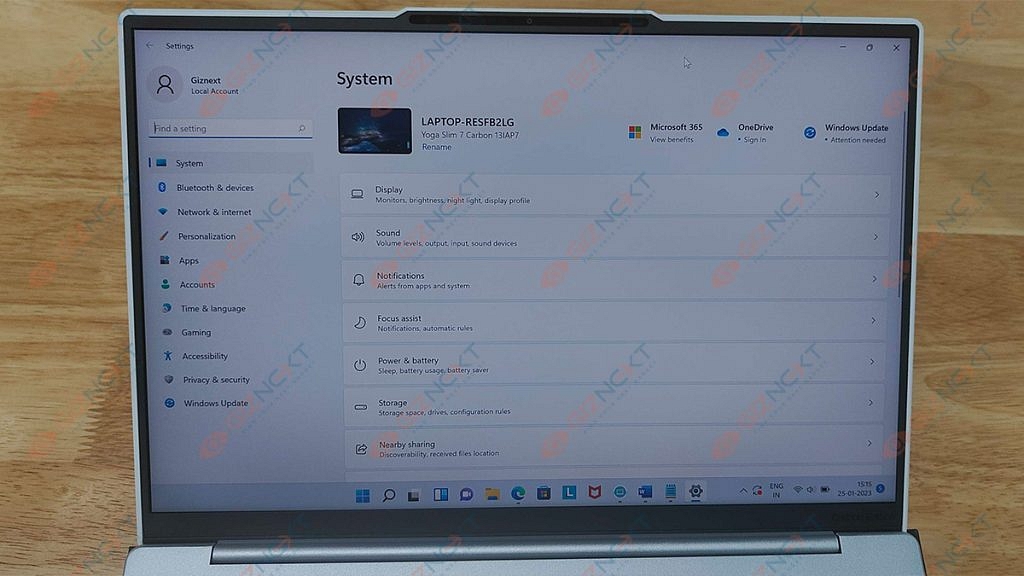 The viewing angles are comfortable. The wide hinge makes it easy to adjust the screen on the Yoga Slim 7i Carbon, although you might notice a fair bit of wobble here. Rubberized feet on the bottom raise the deck slightly away from the desk, allowing the twin fans to push heated air out of the vent.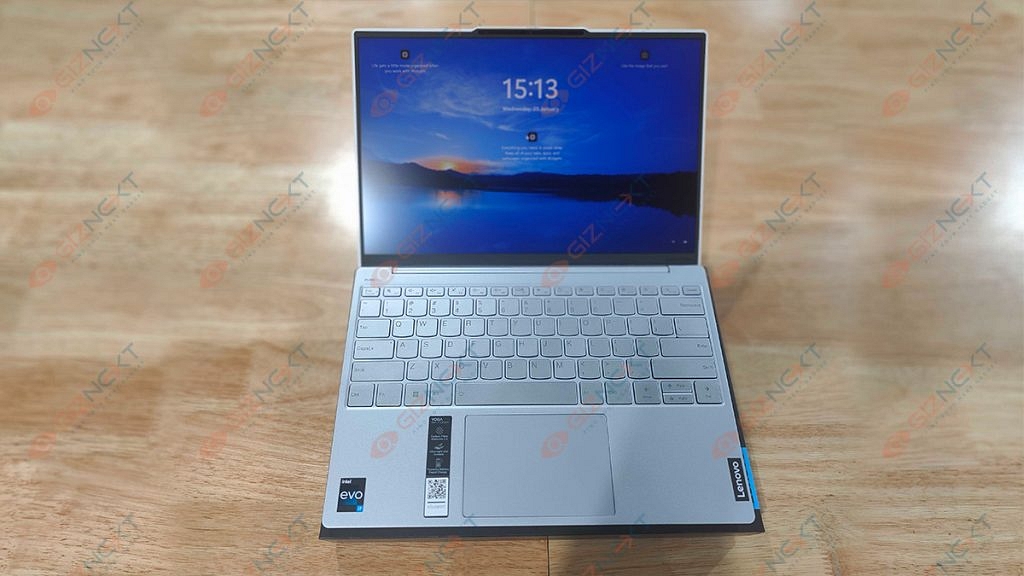 Although this is a Yoga device, it should be noted that the Slim 7i Carbon lacks a 360-degree hinge that would let the screen to completely spin around to enable various usage modes. However, the display does fold entirely flat to a desk.
Hardware Performance
This Lenovo Yoga Slim 7i Carbon has a Core i5-1240P or a Core i7-1260P, which are both powerful alternatives for such a tiny package. We got the Intel Core i7-1260P version for review. In terms of graphics, you get integrated Iris Xe graphics. The most advanced option features 16GB of 4800MHz LPDDR5 RAM. There is just one M.2 PCIe x4 slot available for Gen 4 SSDs. It fits both 42 and 80-mm drives.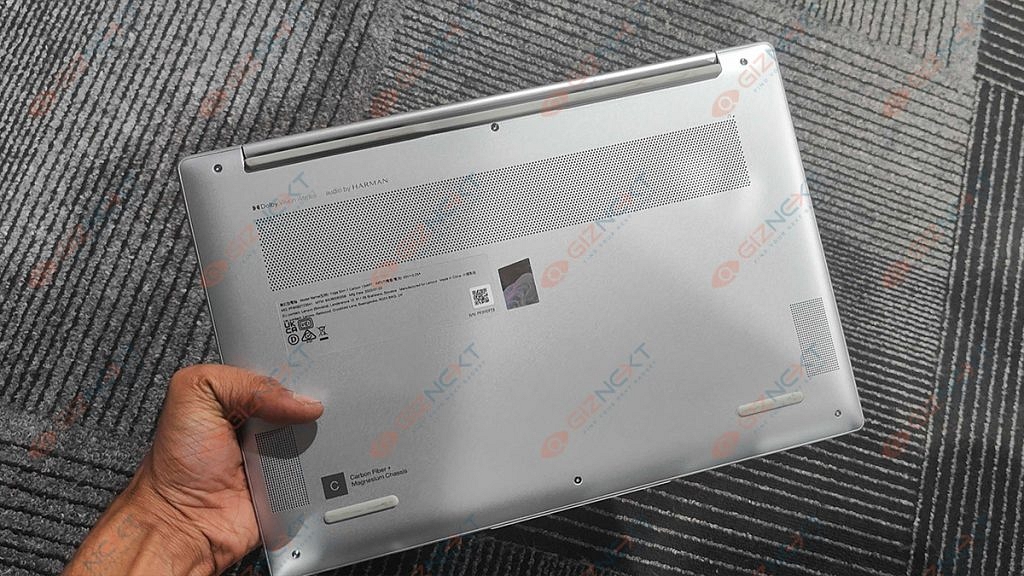 This combination offers great performance for the intended use and we experienced no lags or stutters. For intended uses like MS Office, web browsing, or light photo editing, this CPU is too powerful. However, it lacks the power to handle intensive operations like 3D modeling or video editing. It would have been nice if Lenovo had an i5-powered model of this laptop available in India that could have handled all intended duties quite well.
We can conclude that the Yoga Slim 7i Carbon easily completed routine office duties for day-to-day professional needs. Chrome, with ten open tabs, including one for a YouTube playlist, didn't really notice the laptop freeze up until roughly five hours of work.
Keyboard & Sound
We find a surprisingly good unit. The keys fire back quickly, and the keycaps are nice and wide. It doesn't matter if you have giant Jack Reacher-style super-sized hands, getting acquainted is no problem. The keycaps do feel a little thin which makes us wonder how they may withstand a year or two of typing.
Naturally, it has a slightly shorter key travel. But you can get the most out of it thanks to the clicky feedback of individual keys. Also, it's bright enough to cut through glare on a sunny day, and if you're working late or somewhere dark, you can dip things down, and turn on the keyboard backlight.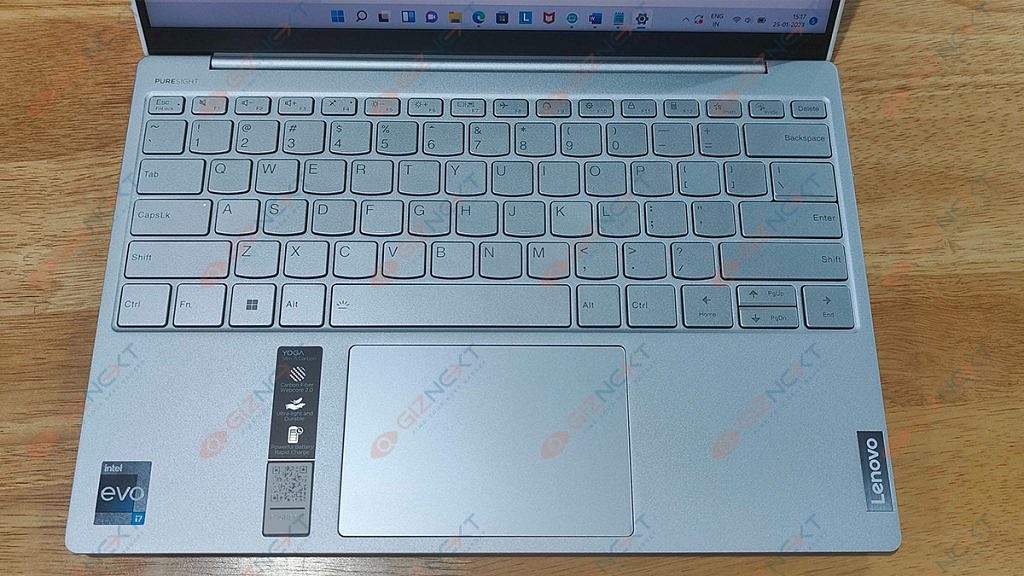 The trackpad is good and is layered with a glass surface which offers a smooth gliding experience. In addition, the 70 by 105 mm size is respectable for this form factor.
Speaking of experience with audio delivery, the Lenovo Yoga Slim 7i Carbon's speakers are quite good. The notebook's Harman speakers produce a sound of very good quality and a pretty loud volume. Its low, mid, and high tones are clear of deviations. Thanks to the loud and clear audio, you wouldn't always need to pair any external speaker while watching movies or shows.
Battery
This laptop has great battery life. There is a 50Wh battery pack. It can be used for approximately eight hours of video playback or more than nine hours of web browsing. It doesn't use much battery when in sleep mode which generally plagues most Windows laptops. The battery lasts for roughly six to seven hours even when the brightness is adjusted to above 80 percent. You can effortlessly reach 10 hours when the brightness is decreased.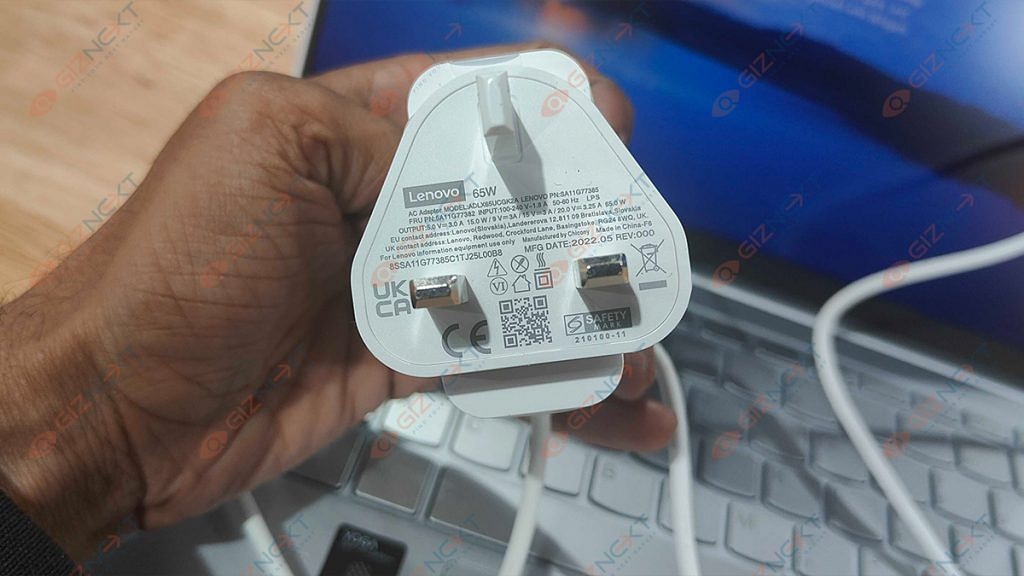 The laptop comes bundled with a 65W Type-C PD charger and it can be charged through either port. But it does take well over two hours to fully recharge.
Final Verdict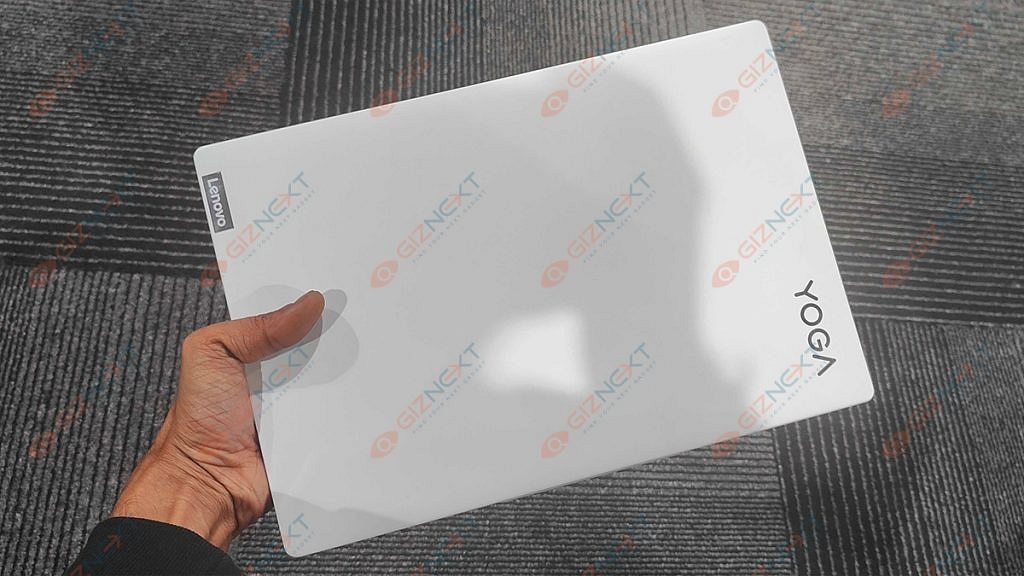 I really enjoyed my time with the Lenovo Yoga Slim 7i Carbon 13IAP7. Priced at Rs. 1,19,990, this laptop relies heavily on its weight and form factor. However, the Yoga Slim 7i Carbon is one of the most stunning lightest laptops I have ever used. It offers solid performance for the size and has a decent screen that would not disappoint anybody who looked at it. Lastly, you hardly ever need to charge the laptop because the battery just lasts forever. I can suggest the Lenovo Slim 7i Carbon to anyone searching for a sleek and reliable ultrabook because it accomplishes what it is designed to do quite well.
Also Read | Infinix InBook X1 Pro Laptop Full Review: Does It Fit All The Bills?